HOW TO MAKE YOUR KITCHEN FUN
The kitchen is one of the most important rooms in your home. It is heavily trafficked and heavily used every day. Kitchens are also a central meeting place and often become a focal point of a party when entertaining family and friends. Whether it's prepping snacks, cooking a large dinner, putting the finishing touches on desserts, or whipping up cocktails, many parties end up with more than just the hostess bustling around the kitchen. That's why it is so important to make sure this room is open, spacious, and welcoming.
Kitchens are also the perfect place to spend quality time with your partner and kids, baking treats for the holidays or cooking old family recipes. A dark, cramped, and nonfunctional kitchen can even affect your mood and meal choices, leading to reheated frozen dinners or eating out to avoid spending significant time in it.
All in all, it's pretty clear that a kitchen remodel can have a drastic effect on your cooking habits, your hosting abilities, and of course your day to day life. If you're ready to remodel, make sure you use this list from American Craftsmen to tackle the most important changes you can make to your kitchen.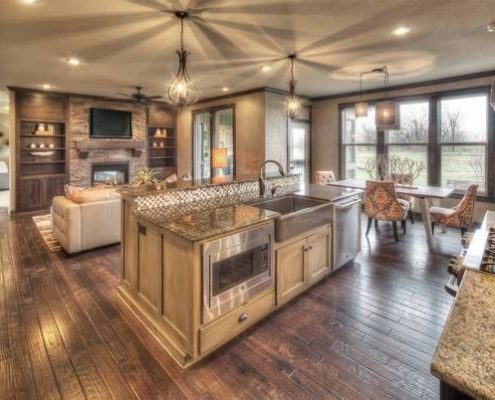 Open floor plans are one of the most popular choices for homes for a reason. Having open space in your kitchen is incredibly important not just for functionality, but from an entertainment standpoint as well. Walls break up and separate the conversations in each room of the house. Instead, consider creating an open floor plan with American Craftsmen to connect your kitchen and living areas so there is an easy flow through the house.
2. Add an Island and More Counter Space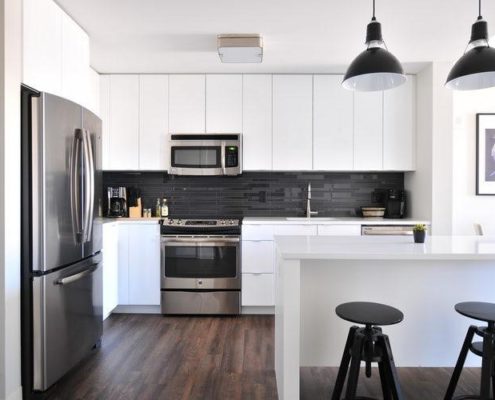 Adding more counter space to your kitchen is a big upgrade, but one you won't regret. It makes cooking and cleaning much easier, and allows for more people to help out and get involved. Extra counter space is ideal for entertainment so you can cook in one area, clean in another, and still have a drinks and apps station set up in a third.
The best way to build extra counter space into your kitchen is by adding an island. Islands can even have ovens, warming drawers, and trash cans built into them for extra space saving convenience. American Craftsmen can help you fit a lot of functionality into a small space with customized kitchen plans for every remodel.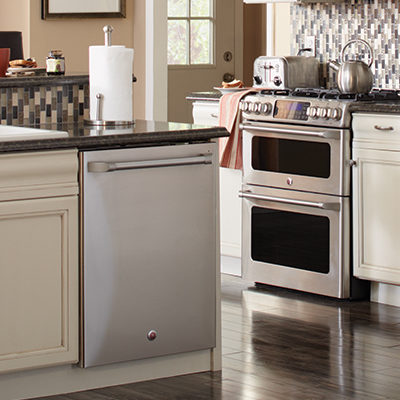 Upgrading your appliances is way a kitchen remodel can change and improve your life. First, upgraded appliances can increase the resale value of your home. Second, upgraded appliances should all be ENERGY STAR approved, which means they protect the environment and save money every month by cutting the utility bills. If you're a regular cooker, consider installing a second oven, a larger fridge, or even a stand-alone freezer for added convenience in your day to day life and use of the kitchen.
4. Increase Natural Light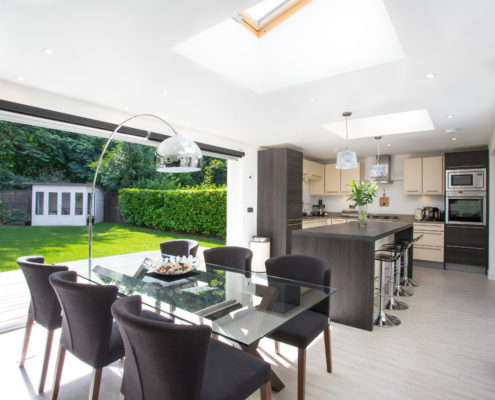 A fourth and final recommendation from American Craftsmen for your kitchen remodel is to focus on the lighting. Because you spend so much time in the kitchen, natural lighting is key. Did you know that studies show natural lighting improves your mood and productivity? If you can, add skylights to the kitchen, or replace small windows with a large picture window to increase sunlight. You can also use the new windows to grow fresh herbs right on your windowsills.
Remodeling a kitchen can change your life. It is one of the most important rooms in the house and central to hosting parties and entertaining guests, cooking and bonding with your family, and making healthy nutritional choices every day. Remodeling a kitchen can even improve your home's resale value. When you're ready to take the leap, make sure you remember some of these essential remodeling tips.
First, knock down walls to create space and an open floor plan to improve the flow of people through your house. Second, add an island to increase counter space and make meal prep easier. Third, upgrade appliances to energy efficient products to save money and protect the environment. Finally, focus on increasing natural light through skylights or large windows to improve your mood and productivity while in the room.
Did you know American Craftsmen offers free estimates for any projects you have in mind? One call can change your life with a kitchen remodel.Take it from a drab, closed off space you dread spending time in, to the center of every party you throw. Turn it from a room you avoid to the life of the family and heart of the house with this essential kitchen remodeling advice today!
Contact Us
American Craftsmen LLC
Est. 2005
Phone: 302-757-2657
Address: 540 Copper Drive
Wilmington, DE 19804
Email Us: Click Here
Hours of Operation
Monday: 9:00am - 5:00pm
Tuesday: 9:00am - 5:00pm
Wednesday: 9:00am - 5:00pm
Thursday: 9:00am - 5:00pm
Friday: 9:00am - 5:00pm
Saturday: By Appointment Only
Sunday: By Appointment Only
Additional Info
Free Estimates
We Accept Credit Cards
Visa | Master Card
Discover | American Express
State of Delaware
License #2005206271
New Castle County
License #GC4795
City of Wilmington
License #7395
City of Newark
License #LC20160000055