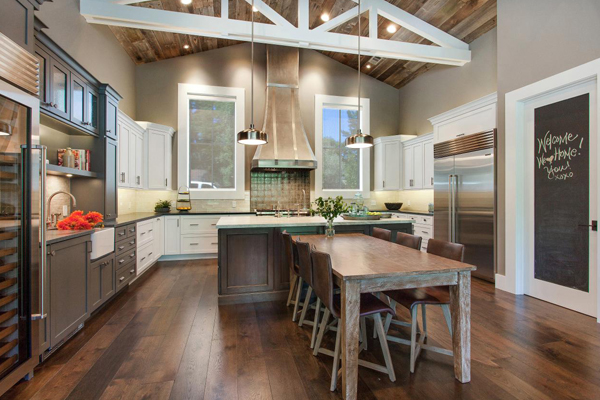 At American Craftsmen, We Know Kitchens
The kitchen is the heart or center of every house. For all kinds of families, it is the place where memories are made. Our everyday lives, from the mundane moments to monumental events are so fixated around kitchens that it's no surprise we spend most of our time there. Kitchen remodels, repairs, and updates are great ways to add value, style, and function to this distinctive space.
When considering a home kitchen remodel, it's not uncommon to become overwhelmed or frustrated by the scope of such a seemingly large undertaking. At American Craftsmen, we remove that confusion, break each project into manageable steps, and steadily guide you through the process from start to finish. Whether you have a clear vision or need support/direction from our expert kitchen designers, we can help make the most out of your unique space with style and functionality. We can even supply a full layout and 3-D rendering based on your desired specifications before any hammers are swung. Additionally, as we always endeavor to demonstrate transparency and integrity in our work, our clients are provided with a detailed timeline, ensuring you are always informed and that our projects always stay on track.
Our team's enthusiasm and breadth of experience with kitchen remodels is evident in each project they complete. To put it simply, our kitchens get you noticed. From the smallest repairs and maintenance jobs to carrying out the most complex and customized remodels, American Craftsmen approaches each task with equal professionalism, dexterity, versatility, and craftsmanship.
We would be thrilled to help you create the kitchen of your dreams!
ANALYZE
Although all projects share some similarities, most are unique in their specific challenges and requirements. Our pre-construction analysis covers all aspects and results in a comprehensive understanding of our clients needs, desires, concerns, requirements, budget, and schedule. This stage could take as little as a few days to a month depending on the complexity of your project.
CONSTRUCT
Throughout every American Craftsmen job, you'll hear about how things are advancing and what's coming next, helping you look forward to the final product. Each person who touches one of our projects takes a tremendous amount of pride in their work. We wouldn't have it any other way. Our thorough approach to analysis lays the foundation for our innovative solutions.
EXECUTE
Our attention to detail, quality workmanship, strong working relationships, and motivated, knowledgable personel deliver innovative solutions. We are always on time, on budget and in full compliance with all safety, privacy and other site conditions. For us, being all about the details is the fundamental principle of how we do work. Our exacting standards will be evident in the final product.