When someone walks into your kitchen, the cabinet doors are often the first thing they see, so choosing the right material and look for your kitchen's design is essential. Whether you'd like a contemporary or classical style, we have the perfect kitchen cabinets for every home in New Castle County, Delaware.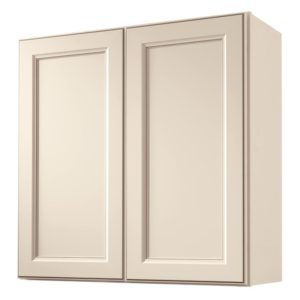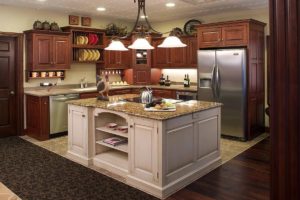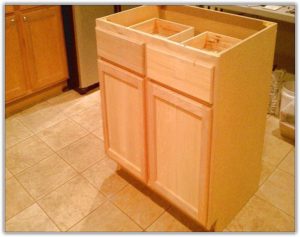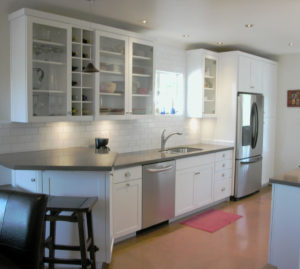 Kitchen Cabinet Types
Basically cabinets fall within two different styles: stock and custom cabinets. Each of which vary in material and price with stock cabinets being the least expensive and custom cabinets being the most expensive but most versatile.
Stock Kitchen Cabinets
Stock kitchen cabinets are your standard traditional cabinets installed in most homes, especially in newly built ones. Because stock cabinets are pre-fabricated, they are easier to pick out in style and shipping/receiving, plus are much more inexpensive than the other types. At American Craftsmen, we are able to offer every type of stock cabinet under the sun, plus we have great connections with every showroom in New Castle County so you can see the style in person before we install it for much cheaper than anyone else.
There are also semi-stock cabinets, which is a mix between stock and custom kitchen cabinets: you get the adaptability of custom cabinets with the affordability of stock cabinets. Contact us today and we discuss which type of stock cabinet is best for your new kitchen!
Custom Kitchen Cabinetry
If you are searching far and wide but just can't seem to find the right style of kitchen cabinets for your home, don't worry because American Craftsmen can still get you the perfect kitchen cabinets!
Our custom crafted kitchen cabinets are designed and fabricated to fit your home's specific needs. We operate our own carpentry workshop with all the latest tools to create kitchen cabinets from any material you would like, with any style or shape that fits within any unusual architectural structures (or any appliances like an oversized fridge or dishwasher).
Kitchen Cabinet Configurations
Once you get the type of kitchen cabinet down, now its time to design your ideal kitchen with the optimal cabinet configuration. Generally there are three ways in which cabinets fit into your kitchen: they either sit on the floor with a countertop, are attached to the wall, or go from floor to ceiling.
Base Kitchen Cabinets
Typically serving as the base to an island or countertops, these cabinets are typically waist high and are in every kitchen.
Wall-Mounted Kitchen Cabinets
Attached to the flush to the wall and extending to the ceiling or floating, the wall cabinets are usually about 12″ deep and ran range from 30″ to 42″, depending on the height of your ceiling.
Tall Kitchen Cabinets
The other configuration of kitchen cabinets features full-height cabinets that span the height of your kitchen from floor to ceiling. They also feature varying depths with the typical cabinet being 12 inches or 24 inches. The typical kitchen height is 84 inches and these cabinets increase in size 6 inches at a time.
Kitchen Cabinet Styles
Framed Cabinets
The most common stock cabinets feature traditional framed boxes with the leading edges joined to a framed face or door that consists of hardwood like cherry, oak, or birch. These American-traditional cabinets fit well into any kitchen and you can even use affordable lower quality material for the sides and a higher quality material for the door. This style is also stronger and more resistant to deformation than most other styles.
Frameless Cabinets
Another common, and increasingly so, style of cabinet are frameless cabinets. These are typically made from finished panels on both sides edged with a laminate strip. With a more modern look and appear seamless to your guests, these cabinets originated from Europe and add a sophisticated look to any kitchen.
Glass Cabinets
With the glass door cabinet style, you can finally show off all the amazing china and stemware you have gathered throughout the years.
Cabinets with Sliding Doors
A rather new offering for kitchen cabinets is a sliding cabinet door systems. These doors can even move vertically and are usually used in top-mounted cupboard.