One of the hottest themes in kitchen design over the past few years has been the expansion of which parts of your kitchen are worth investing time, money, and effort in.  Backsplashes are at the forefront of this open-minded design philosophy.
Once viewed from the purely functional angle of protecting against stains and daily wear, backsplashes are now full-fledged design statements in themselves.  Here are 5 of our Delaware favorites.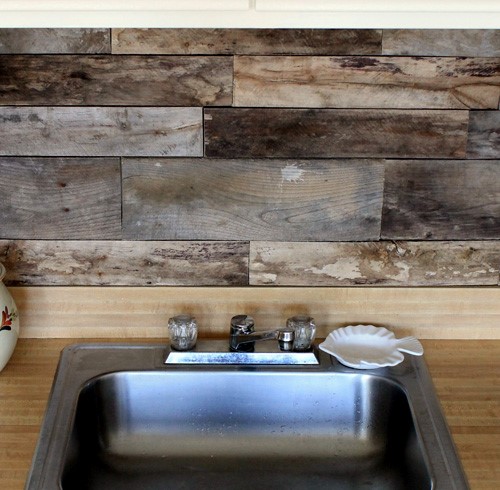 Reclaimed wood has a lot going for it, visually and otherwise.  It's absolutely striking, and can complement virtually any style, from colonial to rustic or modern.
Context is the name of the game in backsplash selection, and salvaged wood is unbelievably diverse in that respect.  Its visual temperature profile is astounding, equally complementing warm kitchens with bright colors and heavy light, or more subdued and calming spaces.
But there are potential downsides to consider as well.  Even when it's been treated for use as a backsplash, wood is wood.  So take care around issues like water damage, chipping and discoloration.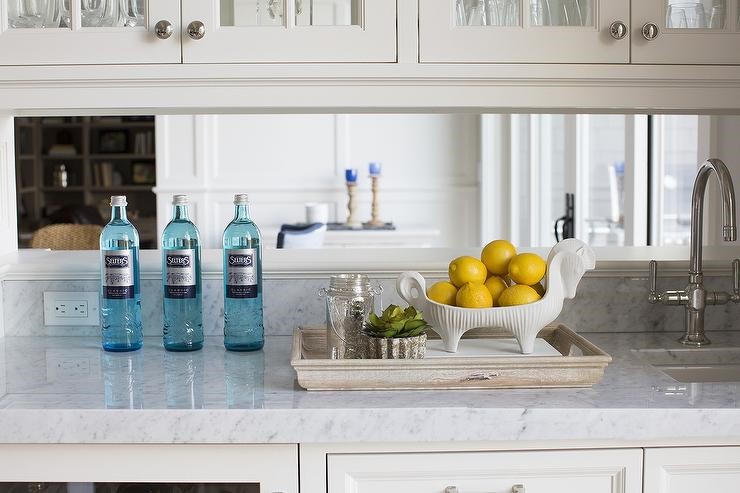 This one is right in line with the theme of open-mindedness that we discussed earlier.  Materials that have traditionally had limited or no exposure in homes are now being brought to the forefront, with breathtaking results.  And note the range of reflectivity, from actual mirrors to hazier effects for a quiet, soothing space.
Reflective backsplashes create a sense of spaciousness, and can make a charming antidote to a closed-off floor plan.  You'll be much likelier to find reflective finishes in more contemporary homes, though.  Its inherently modern look makes it ideal for modern styles.
A reflective backsplash can pair nicely with more traditional styles too, of course.  But in cases like those, the reflective finish is usually a bold statement in contrast to the surrounding style, rather than a continuation of it.
And if you're into darker, more complex hues, then smoked glass could suit your home perfectly.
In the past, "metal backsplash" instantly evoked images of a single sheet of solid metal.  Though this "single sheet" style is still favored by a few, it's becoming much more common to divide the backsplash into separate tiles.  This creates a streamlined effect that's easy on the eyes in an array of different settings.
Metal tiles are available in a barrage of different styles, textures and colors.  Beyond that, metal is one of the simplest backsplash materials to clean, often requiring little more than soap and hot water.  You also have a wide range of prices for metal tiles.  Stainless steel tiles tend to be quite pricy, but metal laminate tiles (basically a very thin sheet of stainless steel) are among the least expensive you'll find anywhere.
Be aware that there are some potential downsides, however.  Dents and scratches are notoriously conspicuous on metal backsplashes.  But if you don't anticipate hard daily wear in your kitchen, you can't go wrong with metal.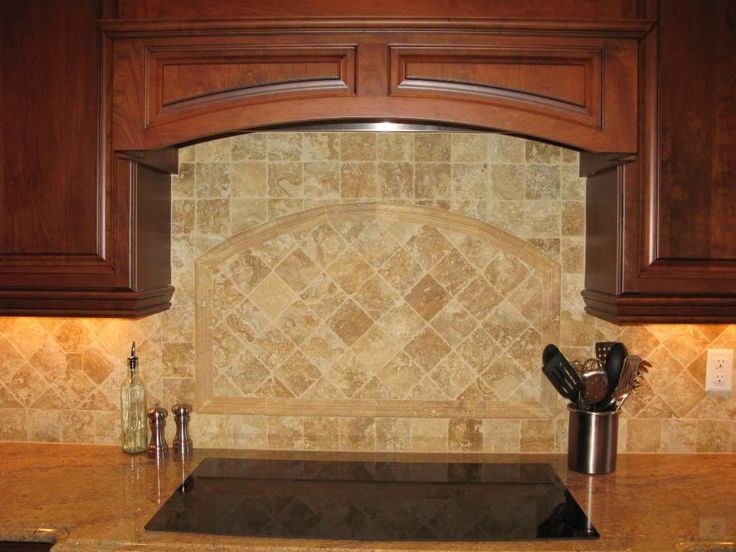 Travertine is a natural stone that has been valued in human construction for over two thousand years.  Its old-world warmth and classic durability are difficult to rival, and have made travertine a lasting love of homeowners the world over.
The stone's huge variety of colors and textures mean that you'll have no trouble matching a travertine backsplash to your kitchen.  Even if travertine's classical warmth doesn't suit you, there are shades that complement darker, cooler-hued kitchens wonderfully.
Travertine tiles are extremely easy to match and replace if necessary, and you'll even save on installation costs.  Travertine is extremely easy to cut, and matching the tiles to the backsplash is quick and painless, unlike many other materials.
Manufactured Stone Veneer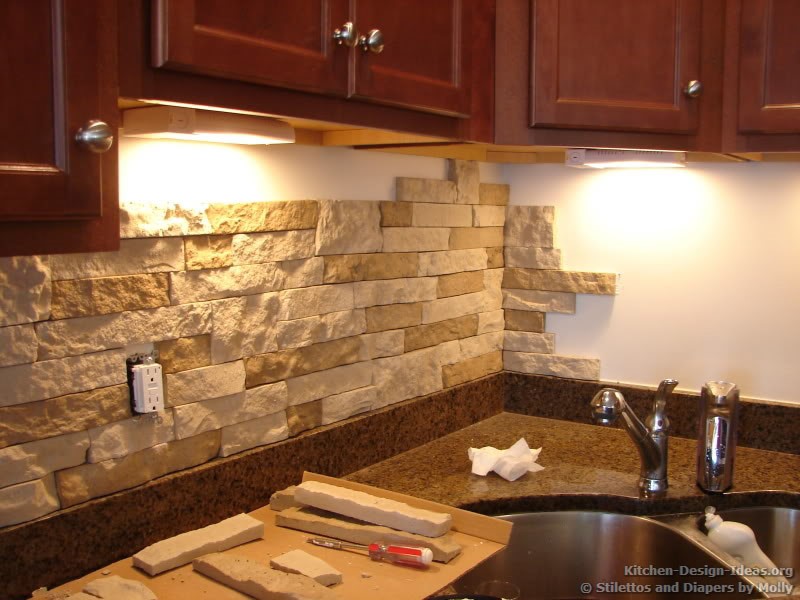 If you don't mind the thought of a manmade material (real stone is too heavy to be practical), then a manufactured stone veneer could be ideal for your home.  Backsplashes of this kind tend to be found in more affluent houses, meaning you'll be boosting your home value if you go this route.
Keep the high porosity of this material in mind, however.  More than the other backsplashes we've covered, stone can absorb food, liquid and oils that could cause discoloration or cracking down the road.  So be extra cautious of spills in your kitchen, and make sure to get your backsplash professionally sealed.
Also along the lines of food and liquid, remember that a stone backsplash will be much more time-consuming to clean.  Stone by its very nature is coarse and uneven, and many manufacturers intensify this effect even further for aesthetic value.  But depending on your individual tastes, this could be an exquisitely beautiful option.
Whether you find yourself drawn to the dusky hues of smoked glass, or the classical warmth of travertine, your choice of kitchen backsplash matters hugely for your home.
No other aspect of your kitchen will draw visitors' eyes so quickly, or do more to establish the overall aesthetic of the space.
Just remember that we haven't even scratched the surface here.  The world of backsplash materials and designs is vast and growing every single day.
So give us a call today at 302-757-2657 for a free estimate and make sure you invest the time and energy with the right contractors to make the best possible choice for your home.