Curb appeal. For homeowners, the definition of curb appeal means the attractiveness of a property and its surroundings when viewed from the street. This term was coined in the United States during the housing boom and is continued to be used as an indicator of the initial appeal of a property to prospective buyers, or even just your friends and family.
If you're working on a home improvement project, or even would just like to amp up the curb appeal of your home, a great first-step would be taking a look at your front door. Selecting a front door that compliments your house style, adds value, and – to put it simply – looks good can be an overwhelming process. However, a front door can add (or subtract) to the curb appeal of your home so replacing the door should be considered a high-value project to invest in.
Take time to review the wide variety of materials, colors, and styles available so you can make the best choice for your budget and your home.
The material you choose for your front door not only impacts the curb appeal, but also the durability and performance. That's right – not all doors are created equal. For the safety and investment value of your door, pick the material that best suits your home and your standards. Most doors are made out of wood, steel, or fiberglass. Each material offers its own pro's and con's and influences the price.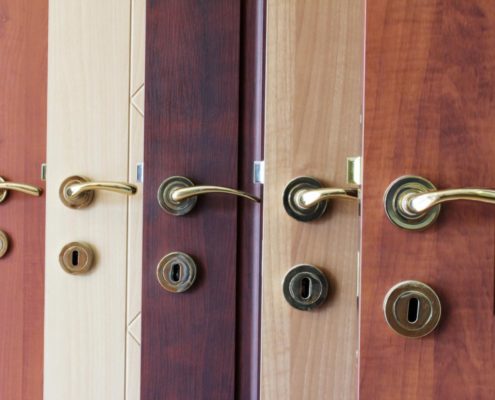 Wooden exterior doors are the most commonly used as they're easily customizable in color, shape, and design. They are easy to personalize by adding panels and glass and, when correctly used, they give your home a sense of elegance and class.
Unfortunately, especially for solid wood doors, high-quality wooden doors are not inexpensive. They require a decent amount of maintenance and are subject to wood rot, warping, and color-fading from the sun. Generally speaking, wood doors have shorter warranties than other types of residential doors.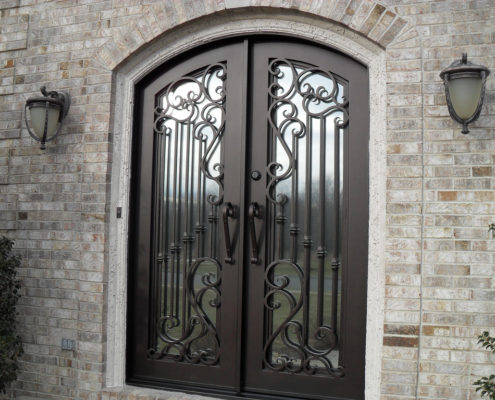 Steel residential doors are, surprisingly, a less expensive option than wooden doors. Generally, a homeowner can spend less than $1,500 to install a beautiful steel residential door on their home. Unlike wooden doors, steel doors are less likely to warp or crack. Steel doors can also include an insulated core to make your home more energy efficient.
Unfortunately, your creative options with steel doors are more limited. They're typically a smooth surface, so personalization comes from either panels or paint color. A steel door without an insulated core does allow heat and/or cool air to pass in and out with ease, so it is worth the investment to use insulated steel if possible.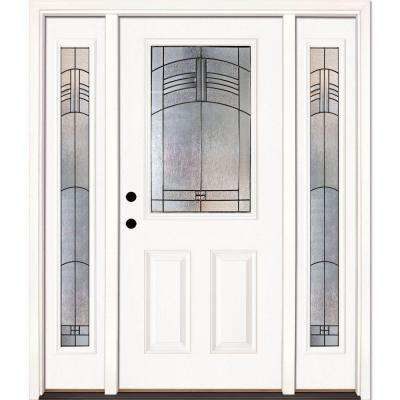 If you're looking for a more durable option than wood, but you're not completely in love with the idea of steel, you should consider a residential fiberglass door. Fiberglass doors have the ability to be stained, similarly to wood, and can be ordered in a wide variety of different shades and styles.
Like their steel counterparts, fiberglass residential doors have an insulated core which increases the energy efficiency in your home. What's the drawback, you ask? Due to the durability and flexibility of these doors – the price can be higher than what most homeowners are expecting to spend when replacing their door, generally ranging just over $3,000.
After you have researched the best material for your home, it's time to get creative in your style and design. It's important that you choose a style that best suits your home but also suits your personal style. If you're unfamiliar with styles of doors – visit your local home improvement store in person or online and browse.
Better Homes & Gardens has a great article about the basics of different front door styles, but here are a few favorites.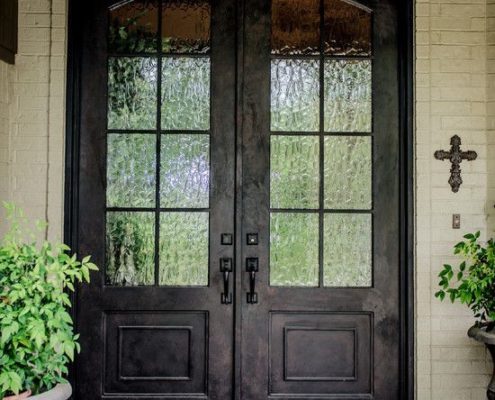 The basic style of this door is a "windowed door," meaning that the door is customized to include glass panels. Glass panels can be customized to have texture so visibility inside the home is still limited while still allowing light to enter and leave the home.
Double doors, specifically, give your home an elegant and classy tone. You can use any type of material for your double doors – but wood doors are the most common. Alongside the elegance, you have a wider door opening which can accent a beautiful front porch or interior walkway.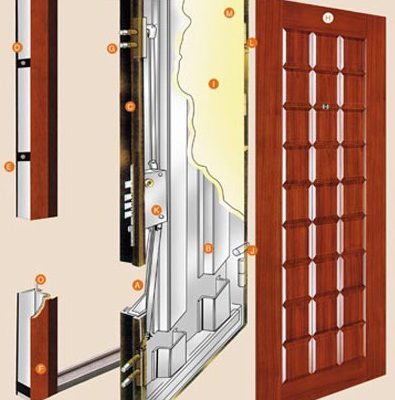 If extra security is an important factor as you're remodeling your residential door – remember that reinforcing your door is always an option. Reinforcement options are ideal for wooden doors and steel doors and serve as an additional barrier and safety feature.
Glass Door with Sidelights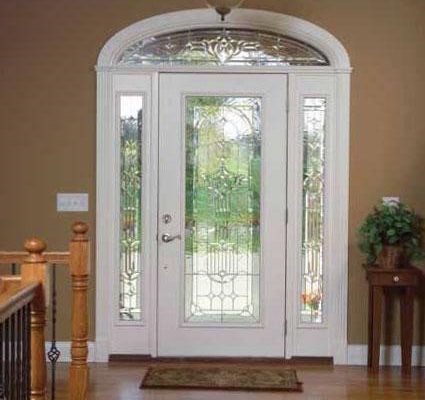 Glass doors are a very popular option for homes that need to allow more natural light into the interior walkway. Sidelights are additional installments that frame the door – it adds additional light and a beautiful, modern, sleek look into your home.
Personalization options are available for the glass within the door – you can order the glass etched or patterned which allows light to come in but no clear visibility in or out of the home, depending on the pattern. Houzz offers a variety of different ideas and look books for glass doors, if you need inspiration.
In conclusion, exterior doors are essential to the basic foundation of a home. In order to add curb appeal, safety, or even just an extra touch of your own personality – consider some of the many remodeling options for your residential doors.
Give us a call today at 302-757-2657 for a free estimate if you're in the Wilmington, Newark, Middletown, or New Castle areas; make sure you invest the time and energy with the right contractors to make the best possible choice for your home.