The first thing that visitors notice when walking into any bathroom is the choice in vanity. It's the largest, and usually only, piece of furniture in your bathroom. Different vanities provide different aesthetic qualities as well as different amounts of storage space for essentials.
American Craftsman will be there to help you choose the best vanity for your space, especially if you're in the Wilmington, Newark, Middletown, or New Castle areas. Here are a few different kinds of vanities with descriptions of the spaces they work the best in.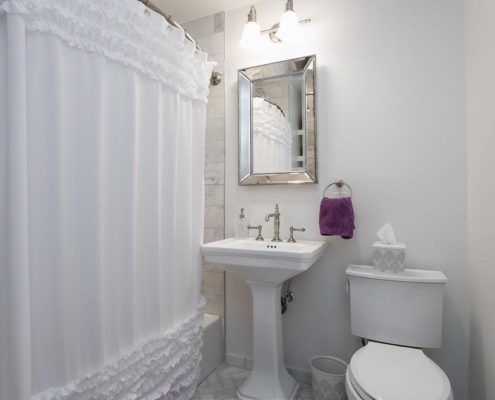 The pedestal sink is a classic choice for any bathroom space. Ideal for powder rooms, pedestal sinks aren't technically vanities, but they act as a vanity would as the focal point of the bathroom.
If your space is short on extra room, a pedestal sink may be ideal for you. Though they're compact, there are many different styles and finishes of pedestal sinks to choose from, so there's one out there for you no matter what look you're aiming for. When choosing this option, also consider hanging some storage space, such as a cabinet or floating shelves above the toilet, to maximize functionality.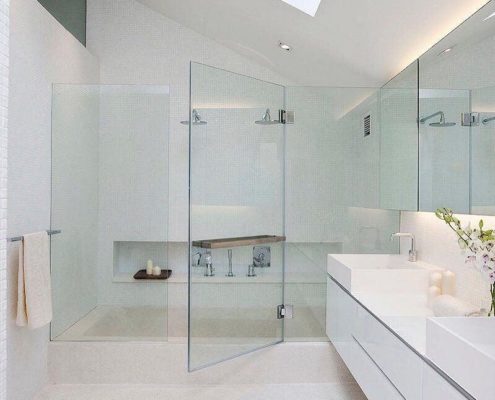 Floating vanities are perfect for modern homes with clean and sleek lines. These vanities come in a variety of finishes, with monochromatic whites, blacks, and greys being the most popular options. If you're wanting something unique and that's not in any home on your block, this is the choice for you.
Floating vanities are wall-mounted vanities that create extra visual space between the cabinet and the floor. With these, consulting a contractor to make sure that wall you would like to hang your vanity on is structurally able to support it is incredibly important. If you're looking into this option for your own bathroom, you can contact us to receive a free estimate if you're in the Northern Delaware region.
Traditional/Free-Standing Vanities
Traditional vanities are full-length vanities that extend from the sink to the floor. These have plenty of cabinet space underneath the sink to store all of your bathroom necessities out of sight.
Some traditional vanities have the entirety of the vanity sitting on the floor, which gives off the same look as bottom kitchen cabinets do. Other vanities are propped up on legs and mimic the look of a piece of furniture, like a dresser. From highly decorated antique vanities to those with a simple rustic look, there are literally thousands of options to choose from within the category of free standing vanities.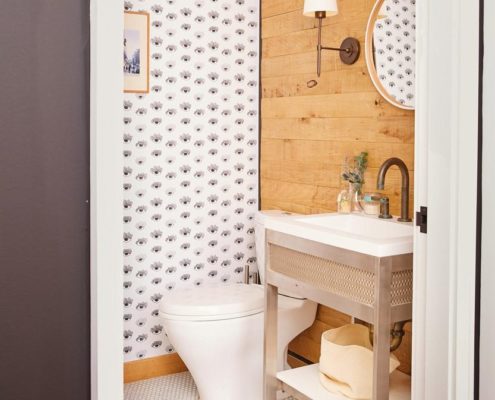 Console sinks are a happy medium between pedestal sinks and free-standing vanities. Console sinks are perfect for those looking for a more industrial look and who prefer open shelving to closed cabinetry.
With console sinks, the plumbing of the sink acts as an aesthetic feature and visual focal point. Few console sinks do not have any shelving below; more often than not, you'll have some sort of open shelving underneath. One way to dress up a console sink is to place statement baskets under the sink to add some personality, pattern, or color to the space.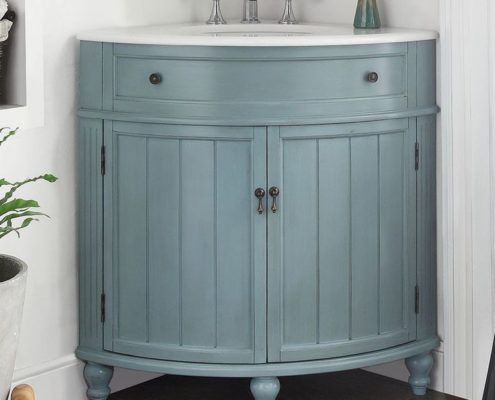 Corner vanities are not a common industry standard, but if you have an oddly shaped bathroom, this may be the best option for you. Corner vanities can be custom made to fit whatever wall space you have.
Though pedestal sinks and console sinks are also space savers, corner vanities give you the closed storage you need while also making your space feel larger. By installing a corner vanity, you open up the floor and bring out the best in your uniquely shaped space.
If you have a specific vanity style in mind that wasn't mentioned above, don't fret. We have many different kinds of sink options that you can add to further customize the vanities above, such as vessel and farmhouse sinks; changing the sink in a vanity can easily give you the look that you've been imagining. American Craftsman will be with you from conception to completion to help you customize the bathroom of your dreams.
Don't forget that the vanity is the focal point of every bathroom and should be chosen with expertise. Be sure to give us a call today at 302-757-2657 for a free estimate; you want to make sure you invest the time and energy with the right contractors to make the best possible choice for your home.