Tile is one of the most versatile building materials in the market – they're used for covering roofs, walls, and floors but can also be used for decoration, protection, and other less common applications. The benefit of tile ranges in its durability and versatility and is a great choice for a variety of your home improvement projects – specifically, your bathrooms!
Tile is manufactured in a variety of materials such as stone, quartz, and clay. Each type of tile has its own characteristics that should be considered when you're looking at utilizing it in your home. The two most commonly used types of tile are ceramic and natural stone.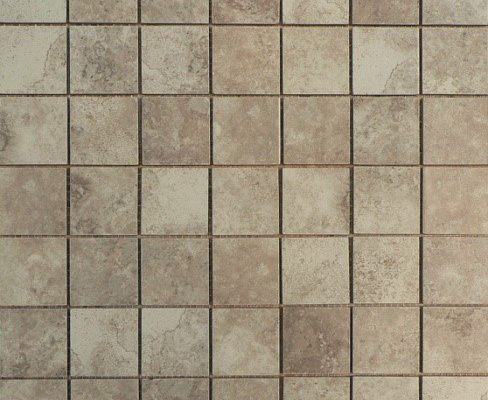 Ceramic tiles are made from thin slabs of clay, hardened by oven firing, and generally coated with some kind of glaze. Ceramic tile is best known for its durability which makes it a great choice for bathrooms as it doesn't harbor germs and is easy to clean and maintain. It's a great option for flooring, walls, countertops, and backsplashes and is available in a variety of colors and patterns. Ceramic tiles offer easy installation and low cost for homeowners.
The design options for ceramic tile are limitless. If you're feeling overwhelmed by the vast amount of options, take a look at some beautiful ceramic tile floors, backsplashes, and walls for inspiration.
Stone tiles, similarly to ceramic tile, have many different uses and variations and offer durability and versatility in your home. While choosing stone tile, you should spend some time researching and viewing different types and slabs. Each stone tile type has distinct characteristics and the pro's and con's of each should be carefully considered during your home improvement project.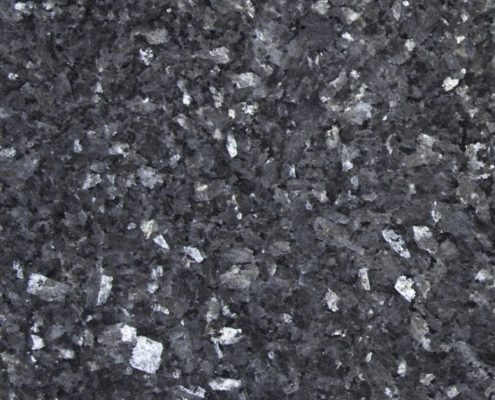 Granite is an extremely popular choice and is very durable. It has a distinct look that usually involves a marbled texture. It's well-known for its resistance to acids found in and cleaning products which make it a great option for your bathroom countertops and a variety of other spaces.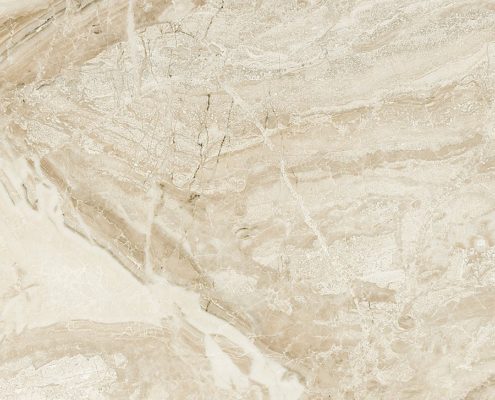 Marble tile is an extremely popular choice of stone tile, primarily due to the various colors and patterns available. Marble, historically, represents wealth and has the ability to transform the vibrancy of any room. Another special feature of marble lies in its polish. Marble is, typically, the smoothest and most polished of the stone tile options. Marble is a great choice for a variety of different bathroom projects.
Popular Bathroom Tiling Styles
The great part about remodeling your home and bathroom with tile is the limitless options you have. With a wide range of colors, textures, sizes and patterns you're able to design and obtain your dream bathroom. Certain tile types are better for certain bathroom features, though, so be careful to consider the characteristics of the tile prior to beginning your home improvement project.
Bathroom Countertops/Vanities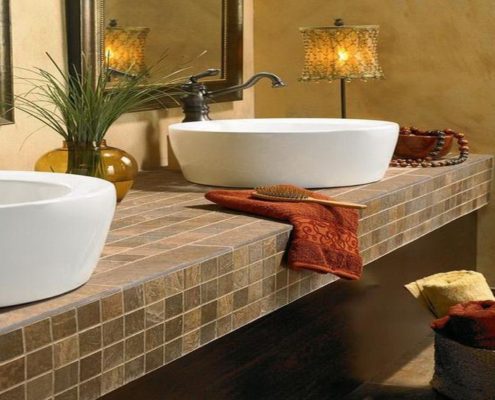 When you're considering the best type of tile for your countertop space, you'll want to lean towards a durable and stain-resistant tile type such as ceramic. Ceramic tile also holds up well to chemicals found in cleaning supplies which are used more often in bathrooms than most other locations in a home.
Here, you can choose whether you would like your tile to have a glossy or matte finish which sets the tone and overall feeling of the room.
Marble on bathroom vanities is a beautiful look, however you'll want to be careful while considering this option as marble does not always hold up well against commonly used bathroom items such as shaving cream, soap, makeup, or toothpaste. Marble can be quite a bit more sensitive than other types of tile. If you're set on using marble for this portion of your bathroom, consider using it as decorative trim around the sink or shower.
Bathroom Showers and Tubs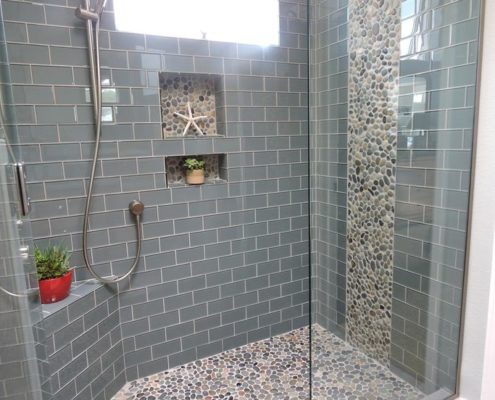 A very popular option is using tile in the bath or shower portion of your bathroom. A careful consideration, here, is the smoothness of the stone. Unfortunately, the last place you need a highly-slippery surface is in the floor of your shower, so we recommend you use a tile that is not notoriously slippery – for example, ceramic or natural stone. Similarly to the countertops, using marble or granite as a trim or decorative piece here will offer a timeless (but still safe) look for your home.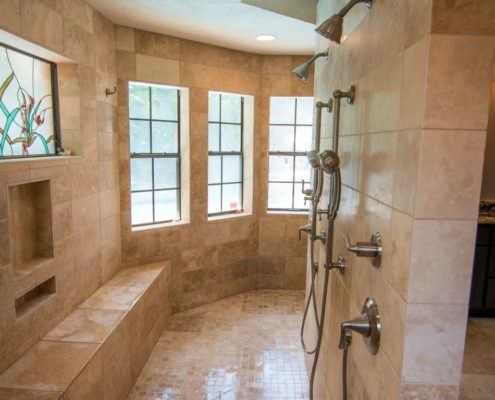 Your bathroom floor is an integral part of the overall design of your bathroom – and homeowners often overlook that! Vinyl tiles offer a practical, low-cost, and low-maintenance option while still allowing homeowners a vast array of colors, sizes, and patterns. Furthermore, vinyl tiles can be installed on your own which can help if your budget is at the forefront of your mind.
Porcelain and ceramic tiles offer a larger spread of patterns and colors, but they tend to get quite cold due to their surface type and you will often need a bath rug to lay over it for comfortability.
Tile is a great option for a variety of your home improvement projects, especially your bathroom. Whether your goal is rustic or elegant, you can find a tile that fits right for your house and budget.
Give us a call today at 302-757-2657 for a free estimate if you're in the Wilmington, Newark, Middletown, or New Castle areas; make sure you invest the time and energy with the right contractors to make the best possible choice for your home.